Description
1. Oil-free scroll technology
Compressed air purity is crucial for many industry sectors, such as medicine, research, and biotechnology.
The scroll compressor has set a new standard in compressed air delivery. Not only does this scroll compressor series meet industry standards, but this technology reduces the costs of ownership because there is no need for oil filter replacements, oil condensate treatment, and energy to combat the pressure loss caused by filtration. It is 100% oil and silicone-contaminant-free.
2. Advanced scroll compression technology
*The unique working principle of scroll compression technology gives SLT series compressors unique energy efficiency advantages.
*The air compression process is realized by the mutual movement of the fixed scroll and the moving scroll. The air enters from the outer side of the nose. Once the air is sucked in, the moving scroll closes the air inlet. As the moving scroll moves When rotating, the air is gradually compressed, and continuous compressed air is discharged from the center of the fixed scroll.
*This process is continuously repeated so that the discharged compressed air is always continuous without fluctuations.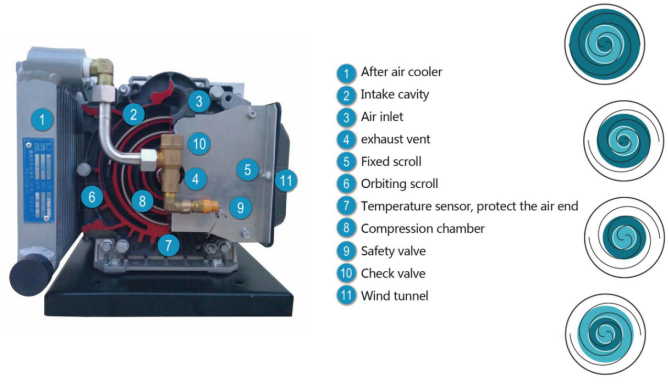 3. Technical Parameters:
4. Variable Flow Control Technology (VFT)
*All oil-free scroll models are equipped with the VFT control system, which can make the compressor adapt to the user's gas demand to the greatest extent when the gas consumption changes. The VFT system automatically controls the start and stop of each vortex revolver through the SOLLANT oil-free scroll air compressor controller, and precisely meets your needs for compressed air.
*The algorithm of the SOLLANT oil-free scroll air compressor controller can ensure that the discharge pressure is kept within a very narrow range, optimize the operating efficiency of the compressor, and ensure the stability of the system pressure. The SOLLANT oil-free scroll compressor can also continuously monitor the operating status of the SLT compressor and intuitively provide real-time operating data.
Sollant on-site compressed air systems are not only low-noise air compressors but also built-in air handling equipment. They can even be placed on the production site to provide the highest efficiency compressed air and help you save energy and costs.
Quiet and compact
Low noise enables the compressor to be installed near the point of use, reducing the installation of air pipe networks, reducing pressure drop and reducing leakage
The most suitable compressed air solution
Sollant has a wide range of compressed air products, you can always choose the most efficient system to meet your compressed air needs.
Cost savings
Because the compressed air processing system is built into the compressor casing, the installation cost is greatly reduced, and it is possible to install multiple compressors in practice and capital.
High energy efficiency
In order to ensure the maximum energy utilization rate, when the compressed air consumption is constant, SOLLANT provides a traditional loading/unloading adjustment system without waste of no-load energy consumption.