1. What is a diesel air compressor used for?
The diesel engine portable screw air compressor is widely used in many applications, including construction, industrial manufacturing, etc. Generally speaking, the diesel engine portable screw air compressor is mainly used for the following:
Mining– The diesel screw compressor is ideal for many heavy-duty applications in mining operations. Besides, this diesel screw compressor improves production and safety, which is essential throughout all aspects of mining processes.
Shipbuilding– The industrial portable air compressor is crucial for ship construction: both the shaping and the cleaning of the parts require pressurized air; besides the surface treatment of the ship also requires the diesel compressor for sandblasting, etc.
Urban construction– The portable diesel air compressor makes the construction work easier. In particular, the towable air compressor is very popular due to its good mobility.
Power generation–The diesel engine portable screw air compressor is always a reliable energy source in all kinds of power plants. The industrial portable air compressor ensures continuity and reliability.
2. How to select a diesel portable screw air compressor for different applications?
Industrial portable compressors vary in size, types of power supply and pressure of the compressed air, etc. In terms of the air pressure, there can be both low-pressure air type to pump up the bike tire; and there's also the high-pressure type diesel screw air compressor to supply a heavy manufacturing facility.
Amon so many types of diesel screw compressors, how to choose the suitable portable diesel air compressor? According to their applications, the diesel screw compressors can be grouped into three classifications: consumer-grade, professional-grade, and industrial-grade.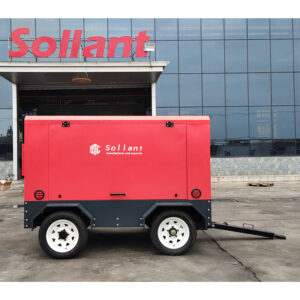 Industrial-grade– Compared with the professional-grade air compressor, the industrial-grade diesel screw air compressor is designed with a higher standard. This kind of portable diesel air compressor is designed to provide a steady flow of compressed air for long periods of time and take fluctuating surges in major manufacturing plants. This kind of industrial portable air compressors are built with high-quality components that allow for customization to the specific environment to improve performance, energy efficiency and reliability.
3. Why Choose Sollant diesel portable screw air compressor?
Among so many leading air compressor manufacturers, why choose Sollant as your diesel screw compressor provider? The reasons are the following: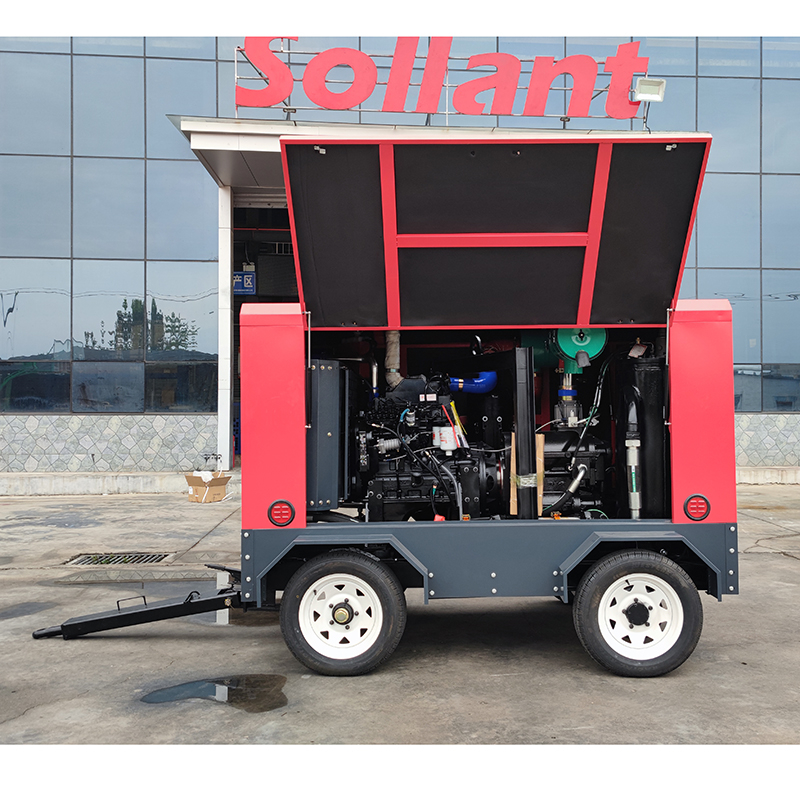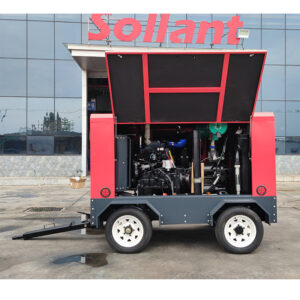 Wide range of applications– Sollant portable air compressor is suitable in a variety of applications, such as urban construction, mine, and refineries, ship construction and repair, etc. Particularly, this tow-behind design makes the diesel screw compressor move flexibly on different sizes. Actually, this China mobile diesel screw portable air compressor is very popular on the international market.
Energy efficiency– Sollant Diesel Engine Portable Screw Air Compressor is equipped with the main engine and a diesel engine connected directly through a high elastic coupling with the large diameter rotor design of the third generation 5:6, and there is no increasing gear in the middle. This design ensures energy transmission at a higher rate and reduces energy loss.
Good mobility– Each air compressor is equipped with a lifting ring for convenient lifting and transportation, which makes the air compressor move flexibly even in bad terrain conditions.
Humanized design– The whole air compressor is designed to reduce the repairing work and downtime.
Intelligent control– The air compressor is equipped with a microcomputer controlling the air compressor intelligently, with automatic alarm and shutdown protection.
Professional service– Sollant sales team offers a 7×24 hours service for wholesale, pre-sales, post-sales or something in between. Sollant is at your disposal all the time.
For more details, please click: Sollant Portable Diesel Air Compressor