Description
1. Product Description:
We deliver innovative power solutions for a variety of residential, commercial, industrial, and APU applications. With diverse generator options, high-tech portable products as well as cutting-edge transfer switches and accessories complementing a distinguished product catalog, we make sure power is always available to our consumers and their businesses, whether the setup is indoor or on a remote construction site. When it comes to a generator, industrial high-tech applications are always in top priorities at Sollant.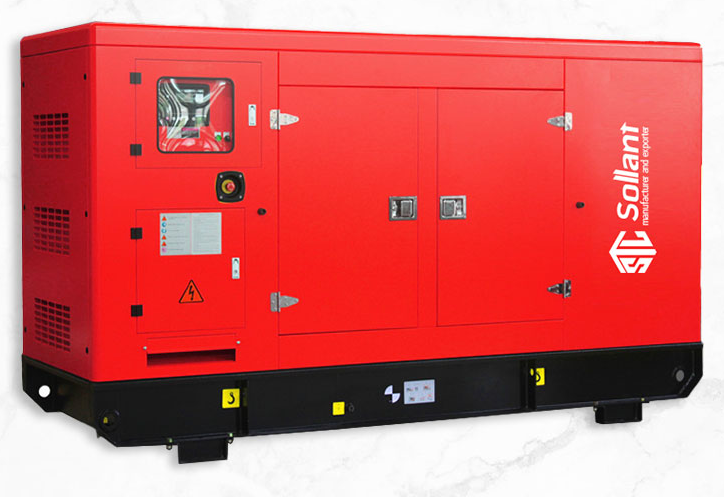 2. Develop Your Business with Sollant generator/power units:
Diesel-fueled generators provide non-stop business function with an efficient fueling option intended for large backup power applications. Sollant has always been able to ensure each diesel-powered solution meets the needs of various applications as well as the standards of each industry.
Sollant's portable equipment is designed to withstand the rigors of rental yards and sites, in the most extreme environments. Our innovative solutions help military, disaster response, oil & gas, mining, construction, infrastructure, and event professionals optimize operations with mobile light, power, water, and heat solutions for safer worksites and streamlined workflow.
※ Boundary advantage
Car smooth streamline appearance which is good looking and durable.
※ Door & window is well sealed
Seamless with stainless steel hinges and high elastic sealing tape makes the generator set with a close sealed gap.
※ Weather resistance
Silent shield adopts high-performance stainless steel door locks which open more conveniently and improve the weathering performance of the machine.
※ Fastening
The outer connection bolt of the soundproof shield is made of 304 standard stainless steel, this greatly improves the corrosion ability of the product in the extreme harsh use environment and ensures that the product is still new after years of use.
※ Low noise advantage
Silent type realizes below 75 decibels meet to international standards; super silent type realize 65 dB below reached the military standards.
※ Anticorrosion advantage
The muffle shell undergoes a rigorous acid phosphating and electrophoresis process, and then through electrostatic spraying from high-temperature casting, which highly enhanced the ability of anti-corrosion of the shell. The generators and electrical components are completely enclosed in a rugged, silent system to ensure that your power supply is protected in a variety of extreme and harsh external environments
※ Hoisting advantage
Each device can be transported either at the bottom or on the Rain & Dust Resistance Easy Operation & Mointenoncewhich effectively reduced the handling costs.
※ High-temperature environment working model
Good ventilation design and thermal radiation protection system ensure that the unit is always operating at the appropriate ambient temperature. Each silent type diesel< 75dBgenerator set undergoes rigorous wind resistance test, resonance test, and temperature test, which ensures that the product is running well and the performance is stable and reliable.
3. Technical Parameters:
4. More Sollant Generators: